I'd like a couple minutes if your time to address a couple things.
Most importantly, we need you to tell us when you're arriving and if you need a pickup.
Campzone Info
Campzone's location will be:
Schorfvenweg 1, Kronenberg
Use this for navigation purposes.
Campzone officially starts at
0:00
,
Friday 11th of August
. This means we'll be queuing up several hours before midnight, on the
Thursday
.
Consequently, you can arrive or be picked up between
August 10th
,
21:30
and
1:00.
If you're arriving the next day, you can be picked up starting from about
8:00.
If you're coming by car
- Please tell me when you plan on arriving
- Please tell me if you are bringing anyone
- Remember you're only allowed to enter the field
once
for loading/unloading purposes
- After that, you will have to park your car at the car park and walk to the tent
If you require a pick-up
The most convenient place to pick you up from is
Train station Horst-Sevenum
, which is a 7 minute drive. This is the only place we can guarantee we'll pick you up from.
Eindhoven Airport is about 35 minutes away and Amsterdam Airport is over 2 hours away.
I recommend using the service
9292.nl/en
, this allows you to plan your route over all of Dutch public transit, including trains, trams, metros, and buses.
- Please let me know when you plan on arriving
- Please let me know if you plan on travelling with someone
- Try and let us know when exactly you're arriving by phone, text, or IM
- Please let us know when you plan on
leaving
so we can account for this
We fell flat on our faces last year when everyone suddenly left and we had 2 people to do 10 people's worth of work.
If it turns out people will leave early, we'll mandate that all PC's be off and packed up by
4:00AM
on the Monday.
Recommended Packing list
https://www.dropbox....cz2017.pdf?dl=0
Activities and Competitions
All activities and competitions hosted by Campzone are now final and all sponsors and prizes have been announced. They're pretty crap.
You can find the schedule for them here:
https://campzone.nl/programma/?lang=en
In this thread we'll also discuss the teams going into the competition.
See you at Campzone!
Seat map (Note the 13x10 dimensions!)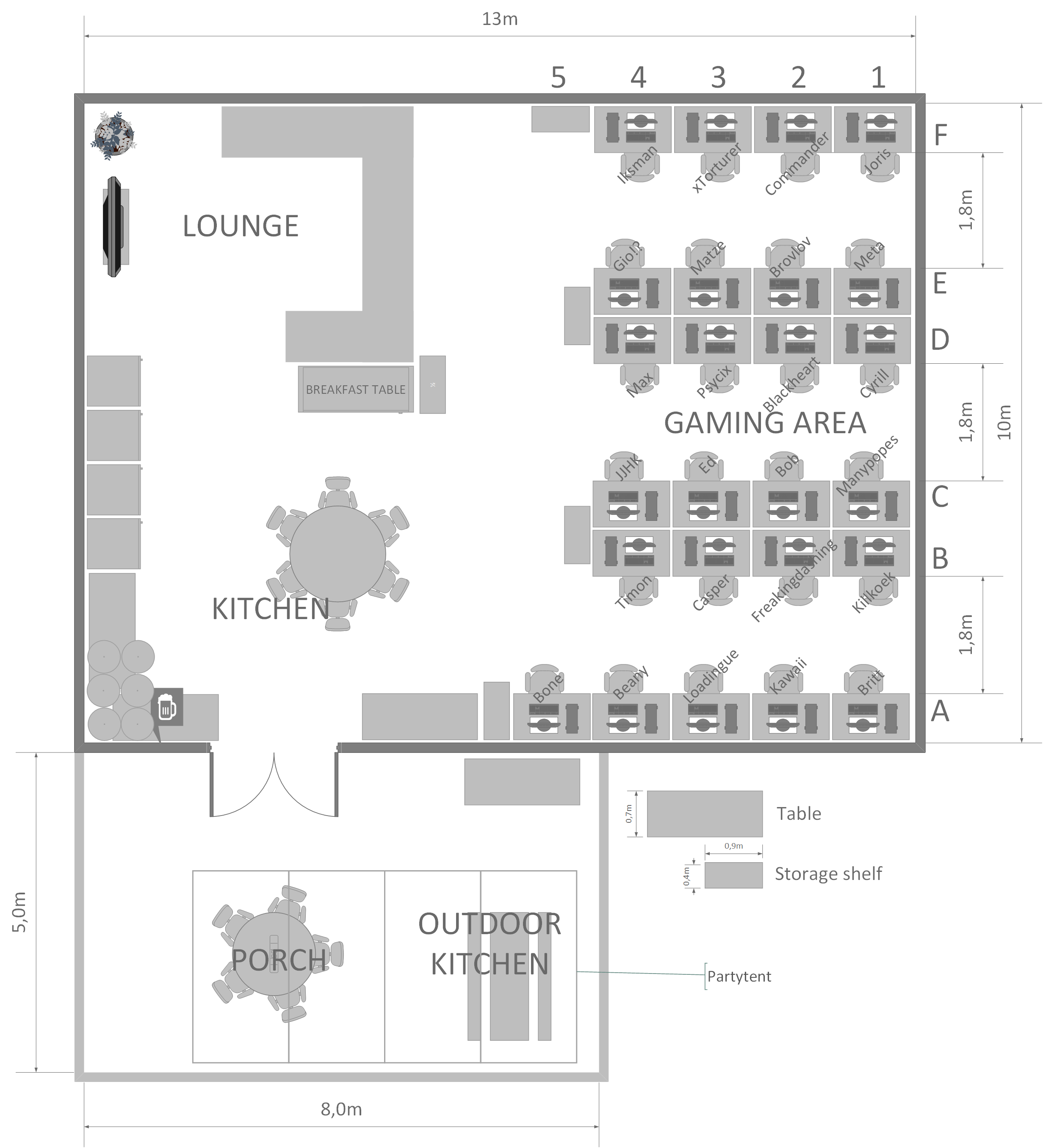 Hello everyone!