We're back!
This year will mark the 6th time LDT will find its way to Campzone!
Details can be found at http://cz.ldt.gg/
This year Campzone is from the 11th of August to the 21st of August.

Applying
Applications are open at http://cz.ldt.gg/apply/
Keep in mind that applying doesn't obligate you to any payments.

Last year, we charged Dutch attendees €395 and foreign attendees €355 making the average ticket around €375.
This year, we've managed to achieve some cost savings, as well as getting our discount back.
This means we could have put the price down to €355 for everyone, but we decided not to because of the overwhelming result from the survey...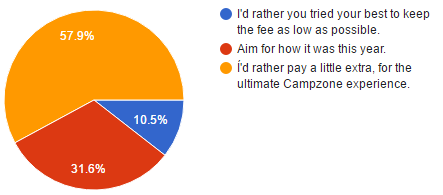 This is why we've opted to keep the price the same:.

LDT 2 CZ 2017 tickets are €375 for everyone!
Payment deadline is February 14th, 2017.
You might be wondering where these extra funds will be going to...
Well here are some facts about LDT 2 Campzone 2017:
1. Everyone will have their own 120x76cm table. (that's 10cm more mouse space)
2. We'll have a 10x15 tent even if we only have 20-25 people.
3. In which, we will put this lounge set:
4. Same beer as last year, just a lot more of it.
5. More fridge space per person.
6. A dedicated freezer.
7. This sweet-ass plant:

8. Two of the round tables we had before, so now we can comfortably suit a group playing Werewolves while another one plays Stef.
9. More space out front, with more lighting, more seats/tables, and an ashtray.
10. NO MORE hauling tables and chairs from and to the entrance!
And probably a couple more things I forgot.

So I hope to see you guys at Campzone this year!
If you have any questions at all, leave them in this thread or contact me personally.
Applied (25)
Hardcore Bob
Cyrill Jones
Gio
Mattie
Commander
xTo
Iksman
EarthwormEd
Loadingue
ManyPopes
Max
Psycix
Freakindashing
KimJongJoris
Beany
Bone
Killkoek
Kawaii_Sushi
Britt
Blackheart
JJHK
CazzyWazzy (Midweek)
Brovlov
Timon
Meta