If you're at all in the loop of Dreamhack, E-Sports or gaming journalism you'll probably have heard about this incident at Dreamhack.
In this thread I'll sum up what happened in a nutshell and post some funny aftermath.

Richard Lewis is this guy:



He casts/comments on CS:GO games, and only bothers with the CS:GO scene really.

This is Loda, a professional Dota 2 player.





Both were in attendance at Dreamhack Winter in Sweden.

This is Lewis' account of what happened next:

"Walking back from a typically late night of work we found a sign on the ground that proclaimed the holder to be the proud mother of a well known professional Counter-Strike player. Knowing the player and his mother weren't actually in attendance, I thought I would take the sign, put it on my pillow and take a photograph of it claiming a groupie had left it.

The joke, of course, is that the fictitious fan must have been the player's mother. The mother-sex joke is a staple of the internet and while this was a somewhat convoluted way to go about it, I was fairly confident that my followers would enjoy it. This is a gaming manoeuvre known to connoisseurs as "top bants." "
This is the Tweet that got it all started: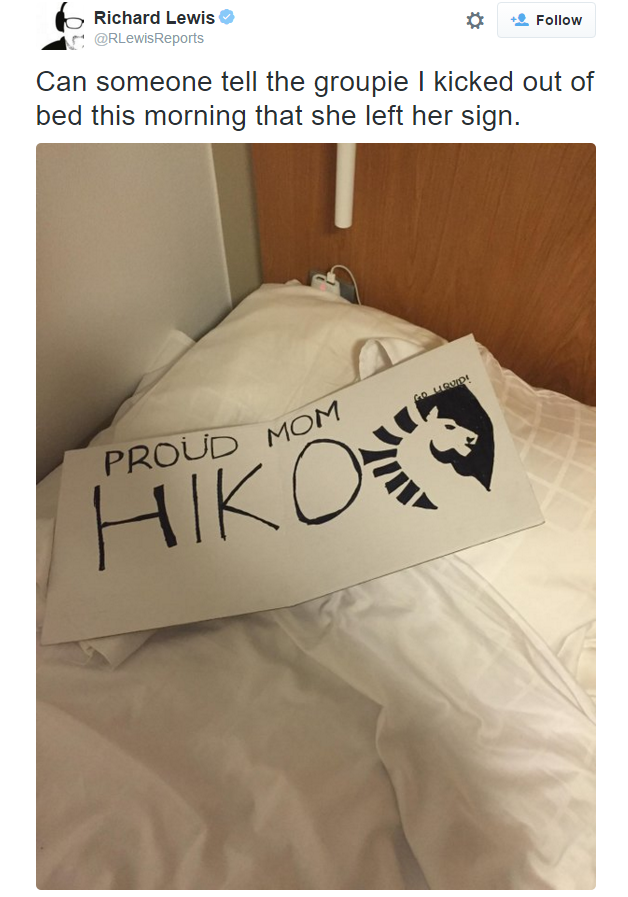 Then, shit started kicking off for some or a multiple of reasons, most notably being that, allegedly unbeknownst to Lewis, the sign belonged to a personality called "Kellymilkies" who happens to be the girlfriend of Loda. Apparently a large part of the Dota 2 community assumed that Lewis was implying he had fucked Loda's girlfriend.
Some back and forth happened, Loda tweeted at Lewis that he'd come look him up at Dreamhack, which he did shortly after Lewis was having a shouting match with Kelly whom he had just run into. What happens next differs from account to account but what it comes down to is that Loda shoved his head into Lewis' face and Lewis grabbed him by the neck and pushed him away.

In an effort to keep this short I'll just say that even though the police was involved, the issue seemed resolved between the two of them until some disagreements started later again, with the end result being Richard Lewis being banned from ever working at Dreamhack again.




Here's Richard Lewis' article with his personal view of what happened.
Despite being obviously biased, I feel like this article sums up the series of events better than any:
http://www.breitbart...you-of-assault/
Also here's him going into detail on a podcast:
https://www.youtube....h?v=znMPABpU8P0
This is Dreamhack's official statement about the event:
http://www.dreamhack...today-at-dhw15/


Here's some related banter, some of which got Lewis into even more trouble.


Lewis being asked by fans to pretend to strangle them for a photo.

A Super Smash Bros. professional player poking fun at the event.
And then I convinced some random person on 4chan to name their USP to "Hiko's mum".