The launch
Tonight our lord and savior Elon Musk will do a launch (attempt) for an International Space Station resupply mission.
Named CRS-6 (the 6th cargo-resupply-services mission), SpaceX will use their Falcon 9 v1.1 rocket to blast the SpaceX Dragon capsule full of cargo into orbit.
Dutch time: 22:33
UK time: 21:33
The landing
This is not just awesome because rockets, or because of science experiments flying up to the space station, but there is something special to this launch: A landing.
After separation, the first stage of the rocket (which is about 75% of the entire rocket) will flip around, thrust backwards and perform a hypersonic reentry burn back into the atmosphere, using rocket thrust to reduce it's velocity. The rocket will steer itself towards a barge positioned in the Atlantic ocean, using thrust vectoring and hydraulically actuated grid fins. The unmanned barge is a floating landing pad built specifically for this purpose, often called ASDS, short for Autonomous Spaceport Drone Ship. It has a remarkable name: "Just read the instructions". A second ASDS is also under construction, called "Of course I still love you"
The rocket will then deploy landing legs, and softly touch down on the barge with rocket thrust.
This has never been done before. On a previous attempt SpaceX's rocket ran out of hydraulic fluid and came in sideways, slamming down and exploding on the barge. (video) This time SpaceX's Hans Koenigsmann, the vice president of mission assurance, said the landing 75-80% likely to be successful.
Why reuse rockets?
As long as mankind has been flying rockets, the rockets were expendable. One-time use and after that they fall in the sea and/or burn/break up in the atmosphere. Rockets are extremely expensive because of their complexity, size, and need for precision manufacturing. Contrary to popular belief, fuel cost is actually only 0,03% of the cost of the entire rocket!
Throwing a rocket away after 1 launch is much like building a new Boeing 747 for every plane trip. This would make a plane ticket cost tenthousands. But we refuel and refly planes, making plane tickets affordable for the normal person.
The idea is that rockets eventually fly like planes. Launch, land, refuel and refly.
The space shuttle was reusable, but the better word is actually "refurbishable". Every tile of the heatshield had to be inspected and possibly replaced, every engine had to be disassembled into 10000 components, each individually checked and rebuilt. This was way to expensive and is hardly "refuel and refly". SpaceX aims to make the rockets truly reusable. They have already began to make a land-based landing site as well.
In the end reusable rockets may slash the cost of going to space by a factor 10, or even 100. This opens up the satellite market for smaller companies, opens up space for tourism, and allows much more science missions that explore our universe for a fraction of the cost.
Why no parachutes?
Parachutes are actually incredibly heavy, and do not allow for precision landing. The extra fuel the rocket needs to carry to land is lighter or not much heavier than a parachute system. On top of that you don't want to drop the booster in seawater, as the salty water will corrode all of your precious alloys, making reusability a lot harder.
If this extra fuel was used for launching itself, the rocket would be able to put more payload in orbit, but the math is simple: Launch at a tenth of the cost and reuse the rocket, or launch for ten times that cost and bring 20-30% more cargo?
-LINKS-
View and buy rockets here:
Watch launches here:
http://www.spacex.com/webcast/
Neat countdown timer (to liftoff, not to broadcast start)
True Muskians:
http://www.reddit.com/r/SpaceX
-PICS-
The Falcon 9
The barge/ASDS: "Just read the instructions"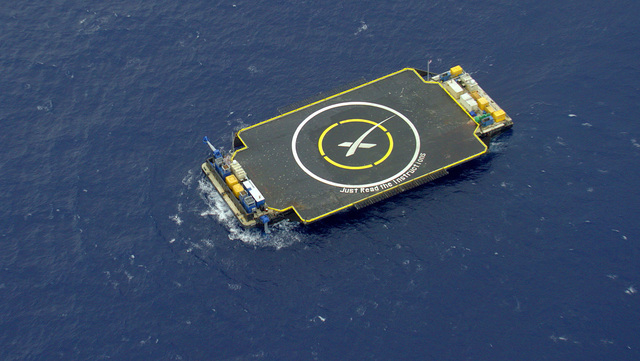 "GO TO MARS OR GET BANKRUPTED TRYING"